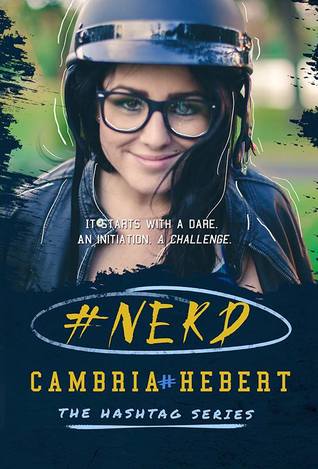 Book: Nerd
Author:
Cambria Hebert
Published: 1st November 2014
My Rating: 4/5
Recommend: Yes
Synopsis:
Two people from completely different worlds are about to be thrown together…

In more ways than one.

She wants to keep her scholarship. He wants to stay on the team. An awkward alliance doesn't even begin to cover Rimmel and Romeo's relationship.

But that's about to change.

It starts with a dare. An initiation. A challenge.

Quickly, it turns into more. But when you're a victim of your status, there is no room for anything real. The rules are clear and simple.

Stick to your circle.

And never fall in love with anyone on the outside.
WOW, I wasn't sure what to expect from this book. When I first read the title of the book I thought it was generally be about a nerd getting bullied and one of the popular lads coming to her rescue, but it was not like that at all!
Romeo and Rimmel are two very different people from two different worlds, how they first started to communicate with one another is actually quite hilarious, I enjoyed reading the development and chemistry between them. Their relationship starts off with something that is both new and fresh to both of them, however what Rimmel doesn't know is what Romeo is hiding from her. I felt so sorry for Rimmel, I felt all her emotions and cried when she cried.
I absolutely loved Braeden's character, and the way he called Rimmel 'tutor girl!
A great, romantic read