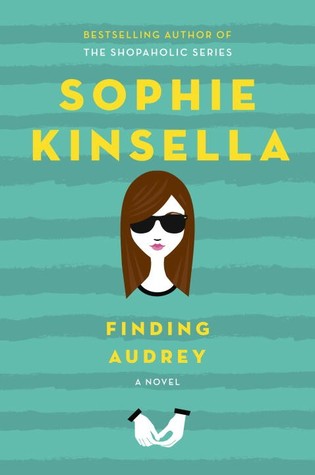 Book: Finding Audrey
Synopsis:
From the #1 New York Times bestselling author of the Shopaholic series comes a terrific blend of comedy, romance, and psychological recovery in a contemporary YA novel sure to inspire and entertain.

An anxiety disorder disrupts fourteen-year-old Audrey's daily life. She has been making slow but steady progress with Dr. Sarah, but when Audrey meets Linus, her brother's gaming teammate, she is energized. She connects with him. Audrey can talk through her fears with Linus in a way she's never been able to do with anyone before. As their friendship deepens and her recovery gains momentum, a sweet romantic connection develops, one that helps not just Audrey but also her entire family.
WOOHHOOOO!! SOPHIE KINSELLA STRIKES AGAIN!




I absolutely, absolutely, absolutely loved this book so much! Why did it take so long for me read this book? Never mind!




This book made me feel really sad for Audrey, it was never good to read about how much her anxiety fails her to live and have a place in the world! That is until.....Linus enters the scene. He helps Audrey to fight the demons inside her and to prove her 'lizard brain' wrong. He acts as a catalyst in to her recovery.

I loved Felix's character the most, his pure innocence acted as a ice breaker in some of the scenes and made the book such a pleasure to read.

Audrey's mum, Anne was such a comical and humorous character. It reminded me why I love to read Chick Lit books so much. A little humour with a touch of drama goes a long way in making books such a joy to read.




I felt like Anne reflected a lot like this character, all she seemed to do was get angry at Frank. Chris (Audrey's father)in my opinion was a little scared of Anne which is why he tended to support her on decisions she made as a parent alone to avoid confrontation.

The only bad thing about this books was what exactly happened to Audrey that she was left the school? What did Tasha, Izzy and the others do to her?


I would highly recommend this book!