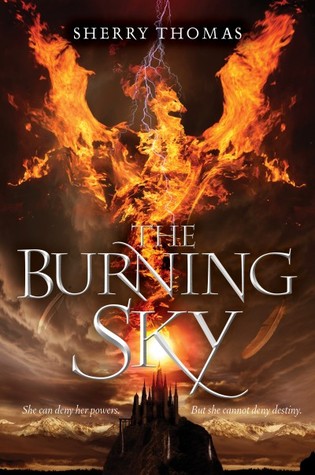 Book: The Burning Sky
Published:17th September 2013
Synopsis:
It all began with a ruined elixir and a bolt of lightning.

Iolanthe Seabourne is the greatest elemental mage of her generation—or so she's been told. The one prophesied for years to be the savior of The Realm. It is her duty and destiny to face and defeat the Bane, the most powerful tyrant and mage the world has ever known. This would be a suicide task for anyone, let alone a reluctant sixteen-year-old girl with no training.

Guided by his mother's visions and committed to avenging his family, Prince Titus has sworn to protect Iolanthe even as he prepares her for their battle with the Bane. But he makes the terrifying mistake of falling in love with the girl who should have been only a means to an end. Now, with the servants of the tyrant closing in, Titus must choose between his mission—and her life.

The Burning Sky—the first book in the Elemental Trilogy—is an electrifying and unforgettable novel of intrigue and adventure.
OHMYGOSH!!!!! This book!!! *faints* (gets back up again)



I was looking forward to this book and I finally, finally FINALLY finished this book. It was so worth it! The setting and layout of the plot totally blew my mind, reading the blurb I expected Iolanthe and Titus to be in some kind of school training magic, similar to Harry Potter. Although, the plot was along those lines in terms of magic and school being involved but the rest, oh my gosh! I have no words for it to express my excitement and love for this book right now, I might just explode! Okay, calm down!



Iolanthe is told to be a great elemental mage who can not only control the main four elements but also lightening and has been 'prophesied' to defeat the great 'Bane' alongside with Titus. Titus and Iolanthe come from two very different backgrounds but at the same time are very alike and perfect for each other. I loved the introductry phase for the characters, it really did the set the scene and kept me on edge every time!