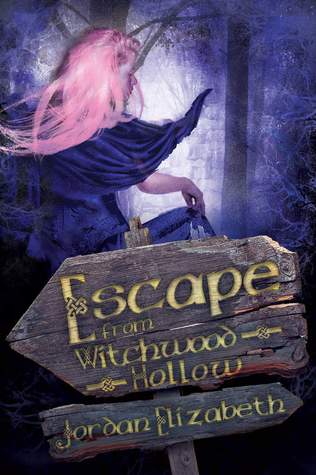 Title: Escape From Witchwood Hollow
Author: Jordan Elizabeth
Published: 29th October 2014
My Rating: 3/5
Recommed: Yes/No
Synopsis:
Everyone in Arnn - a small farming town with more legends than residents - knows the story of Witchwood Hollow: if you venture into the whispering forest, the witch will trap your soul among the shadowed trees.

After losing her parents in a horrific terrorist attack on the Twin Towers, fifteen-year-old Honoria and her older brother escape New York City to Arnn. In the lure of that perpetual darkness, Honoria finds hope, when she should be afraid.

Perhaps the witch can reunite her with her lost parents. Awakening the witch, however, brings more than salvation from mourning, for Honoria discovers a past of missing children and broken promises.

To save the citizens of Arnn from becoming the witch's next victims, she must find the truth behind the woman's madness.

How deep into Witchwood Hollow does Honoria dare venture?
I received this book in an exchange for an honest review

Okay, so I am not to sure what to feel about this book. It started as very intriguing, this is the kind of book for history lovers out there like me. But then it did become a little hard to catch upon what the book was telling me about with the alternate views of Lady Clifford, Albertine and Honoria. I won't reveal too much of the story as it will ruin the story for everyone else :P.

Honoria was a good character but I found it hard to like her, she thought of herself as never being shy to speak out loud but then she would just get persuaded into doing things someone who she only just met. I didn't like Leon at all, I'm not sure why he claimed to love his girlfriend but wanted romance with Honoria?

This book is more of a history telling kind of book, there wasn't any romance involved, no growth character at all. What made me dislike the book even more was the ending, I can't say it satisfied me.