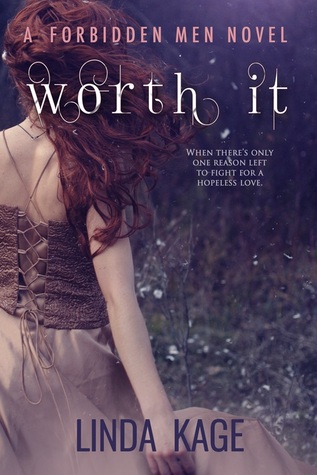 Title:Worth It
Author: Linda Kage
Published: 25th August 2015
My Rating: 4/5
Recommend: Yes
Synopsis:
I fell in love once.

It was amazing. She was amazing. Life was amazing.

I lived for each time I could see her, and nothing else mattered, not that our families were enemies, our time together was forbidden, or we had to meet in secret.

Our love could conquer all.

Until it didn't.

So I was ripped away from the love of my life and shoved into hell, forced to continue without her.

It shattered me, broke the best parts of me, left me permanently damaged.

Or so I thought.

Years later, I swear history's trying to repeat itself because she's back in my life, and I'm just as drawn to her as I was before. But I'm older and wiser now, and I know she should stay away from a worthless ex-con like me.

So, I will not let her in. I absolutely refuse to hurt her. I will keep her away.

Then again, sometimes risking your greatest fear to get to a smile makes everything worth it, and besides, I'm not sure I can resist her, anyway.

This is the story of how Felicity Bainbridge changed my life forever, starting one summer day long ago after I was forced to change a dirty diaper...

--Knox Parker
I got this book in an exchange for an honest review, thanks to Xpresso Book Tours.

Ohmygosh! This book! God damn it, it is nothing what I expected. I expected this book to be about Knox leaving City for some reason and her heart breaking or something along those lines. I have never been wrong in my entire life! See, this is why I love reading!:)

Right, the review! Coming!

Knox and City are shown to be enemies in this book, and by that I don't just mean by their families hating one another. There is also a social class difference between them, City being the rich one and Knox the poor one who can barely make ends meet. I have to say I was really uncomfortable with this theme being explored, I didn't like reading not only did Knox have a crappy life but he was also reminded (or made to feel if you are reading the book) of how poor he was and could not afford much. This made me feel like the book was too realistic, like every aspect of this book primarily the plot was real as in this could have been someone's story!

Anyways, it all starts with Knox knocking into City one day and that's where the real story begins. Some of the things that were revealed, ohmygosh what to say about this? I cannot, cannot and I mean CANNOT believe what happened with KNOX at the prison. No one should ever be in a position like that, my heart really broke for him and I don't blame him for the way he turned out. I don't want to reveal too much about the plot, but what Knox did for City, I can't decided if it was worth it or not. He basically ruined his life forever. But then again, he proved his love for City. But Love shoudn't cost destroying someone's future. The bad idiot ones got away, and what did he get in the end? :'( *cries profusely*

Because of the class, there are significant problems for Knox and City as they fall in love with each other. It kind of reminds of two star crossed lovers like Romeo and Juliet, a little bit of Shakespeare for you. What turns out to be a beautiful and meaningful summer for these lovers ends in a dramatic and sorrowful event. City's family make me want to pull their hair out and murder them all, I cannot use the words I have the desire to describe them with but they are friggin the worst parents possible. If there ever was an award for 'Worse Parents Ever' they would definitely win that award.

In midst of all this chaos, the romance that blossoms between them is so enchanting, and the jokes? Oh god, they are so awful but that is what I love most about them. These characters never ceased to amaze me and I love them till death apart.

What else is there to say? At the moment I don't think I am writing this coherently lol, I cannot get over this shock but I am happy that they finally got the happy ending they deserved, maybe not they way I wanted it but nevertheless they got it anyways! Yayy!
Oh Knox!!
My love!!