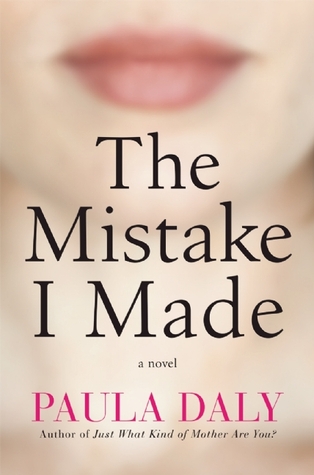 Title: The Mistake I Made
Author: Paula Daly
Published: 15th September 2015
My Rating: 4/5
Recommend: Yes
Synopsis:
The Mistake I Made is the latest page-turner from one of the England's most captivating new thriller writers. In her provocative and riveting third novel, Paula Daly focuses her masterful eye for psychological suspense and family drama on an indecent proposal that has fatal repercussions.

Single mother Roz has a reached breaking-point. After the dissolution of her marriage, Roz's business has gone under, debts are racking up, the rent is late (again), and she's struggling to provide for her nine-year-old son, who is starting to misbehave in school. Roz is in trouble. Real trouble.

When Roz returns home from work one day and finds an eviction notice, she knows that it's time for action—she has two weeks to find a solution otherwise they will be kicked out of their home. Increasingly desperate, Roz doesn't know where to turn. Then the perfect opportunity presents itself. At her sister's fortieth birthday party, Roz meets Scott Elias—wealthy, powerful, and very married. But the impression Roz leaves on him is indelible. He tracks her down and makes Roz an offer to spend the night with him—for money. He wants no-strings-attached intimacy and can guarantee total discretion. Could it be as simple as it sounds? With that kind of cash, Roz could clear her debts and get her life back on track. But as the situation spirals out of her control, Roz is forced to do things she never thought herself capable of. Can she ever set things right again?
I received this book in an exchange for an honest review

I really do feel so sorry for Roz, as a reader we don't know the extent of what happened between her and Winston but the only thing I can say is, it was hard to read it. Not the most awful thing to happen to a person but still, the root of the whole problem stems from Winston. He never should have took out so much debt that too on Roz's name. I mean come on and in the end what does he do? Go around and screw's other girls.




Roz is a very strong person who is not flawless, she tries to be strong for both herself and her son. But anyone looking at her can tell things are very bad for her and they are falling apart. I really admired her tenacity through all of this, the mess she is in, how she deals with George!

Scott....Here is the deceiving part. He seems like the person who is the knight in shining armous but is not. He makes a deal with Roz (pays to have sex with her) with no strings attached and tells her he doesn't want anything from her apart from that. That is until things get tricky, he starts to feel possessive about her, stalks her around, lies and is basically a psycho.

A Murder happens, investigations take place and that's where things get tricky

Now, Henry on the other hand! OHMYGOSH!!! What a sweetheart, I loved his character alot, what a perfect gentleman. He is perfectly balanced in everyway. I loved his humor, personality, interaction and how real he was with Roz and George. He never ceased to amaze me! I was a little disappointed though I wanted alot more Roz and Henry ;)


I feel like this is one of those books where you make a mistake from the circumstances you are in which in the end can either be good or bad depending how you look at it. Roz did the best she could and only as a final straw did she hook up with Scott but he took things too far.